Copper is the black blazer of home décor. Put it against anything and it instantly adds a touch of polish and sophistication. Less gaudy than the brass of the 80s and more inviting than the chrome of the early 2000s, copper is the metallic of the moment. Dulux, the British paint brand, named Copper Blush the Colour of the Year 2015. Its popularity shows no signs of waning, and with good reason. The warmth and grace of rosy copper, along with its reflective properties, add a little shimmer to any situation.
Whatever your budget or style, we've got ideas for how you can bring some sophisticated bling into your interior spaces.
1. Bright Lights. Big Impact.
Copper is at its most elegant, most potent and most electric when in the form of an elegant globe lampshade. Emanating light from within and reflecting it on the outside, a copper lamp puts the material on full display. No one does it better than Tom Dixon. The British designer is the visionary behind some of the chicest restaurants, lobbies and interiors of the world. If one of his pieces isn't in your budget, don't worry. There are plenty of odes to his work at more approachable prices elsewhere.
2. Functional Copper
In our eyes, beautiful objects are even more beautiful when they serve a purpose. Sure, there are some gorgeous tabletop sculptures and decorative balls out there, but many of us live in small spaces where we have to make every inch count. Enter: copper accents with a function.
3. A Copper Wall
A little sheen goes a long way, but a lot goes even farther. If you're ready to make a long-term commitment to copper, an entire wall of the shimmery material is the way to go. Architect Jeff Sherman, of Delson or Sherman Architects, outfitted the two-story wall of his master bedroom in Prospect Heights, Brooklyn with multiple copper panels. He chose copper because he knew that "it would improve from contact with skin over time, rather than smudge like a painted surface." He did the installation himself, which was no small feat. Because it's heavy and very ductile, working with the ribbons of copper was like working with "a 25 pound fettuccine." The effort was clearly worth it. We love the way the copper is reflected in the mirrors across the room and knowing that it will only look better over time makes it even more appealing.
4. Copper Prints
If an entire accent wall isn't in the cards, you can still enliven your walls with a copper print. This ethereal moon phase calendar is available from Little Lark's shop on Etsy. Once 2016 has come and gone, you can cut off the bottom portion and keep the upper square as a timeless portrait of the moon on its own. If you're not as inspired by celestial bodies as we are, check out other sources for affordable prints online like 20×200 and Society 6 .
5. Charger It Up
Do you know about chargers? They're purely decorative plates that peek out flirtatiously from beneath dinner plates, protecting the tablecloth from spills. Perhaps you remember a version of them in brass on your aunt's Thanksgiving table in the 90s when they became popular. In reality, they've been around since Biblical times, and they're an easy, affordable way of dressing up your table without investing in a whole new set of tableware.
6. DIY Copper Ladder
An elegant copper ladder is no farther away than the plumbing aisle of your local hardware store and a weekend afternoon. Brittany Cramer, the mastermind behind the blog Brittany Makes, pulled together this beautiful piece to occupy an awkward wall space in her newly renovated kitchen. The result is stunning, but functional. Even the staunch non-DIYers among us will be inspired by her ingenuity. For instructions and more photos, visit her blog.
7. Bling-y Books
While we don't advocate judging a book by its cover, we're willing to make an exception for those that are truly beautiful. A big book with a copper foil cover makes an intellectual statement for your coffee table. This cheeky leather notebook by Nuuna pushes the envelope with its message that "You Are So F**** Special." If you don't care to leave your inner thoughts out for all to see, you could turn the journal into a guest book, asking visitors to leave a favorite quote or musing.
8. Copper-colored Window Treatments
What better way to enjoy a rosy-fingered dawn than through a rosy copper curtain? This semi-transparent copper-hued fabric from the legendary Création Baumann catches and refracts the light as it enters. We would also love to see the cocktail dress Maria von Trapp would fashion out of these.
9. Copper Throw Pillows
Embrace the softer side of copper with metallic throw pillows. It's another way to explore the copper trend with minimal commitment and expense.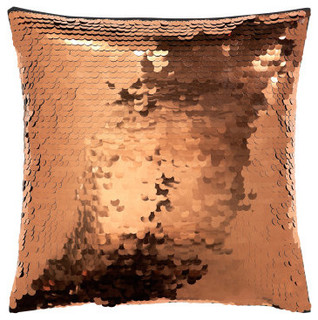 10. Don't Forget the Bathroom
A copper accessories set is an instant facelift for your bathroom. No demolition required. The beautiful thing about copper with a rosy hue is that it plays well with other metallic colors, so whatever fixtures you have now, a copper soap dispenser will most likely only enhance it. We love the sleek simplicity of this set from Anthropologie.
11. In The Closet
If you're not ready to take the copper plunge in the more public rooms of your home, then opt for sleek hangers in your closet. Like wearing beautiful lingerie, only you and your loved one will know they're there. Ooh la la.